Melanesian fashion on display in New Zealand
Pacific Island designers in Auckland with New Zealand MP Agnes Loheni, fifth from left, and stylist Nora Swann, far right. [Photo: Christine Rovoi]
Melanesian designers will showcase their vision of haute couture for the first time at the Pacific Fusion Fashion Show in Auckland on Saturday.
The event returns for its fourth year with a collection of creations from 13 emerging designers Pasifika and Māori.
Organizers say a wide range of fashion styles from Samoa, Tonga, Hawaii, Vanuatu, Papua New Guinea, Solomon Islands, United States, Australia and New Zealand will be exposed.
The show will also feature a new generation of skills ranging from streetwear to resort wear.
Four Melanesians participate.
This includes Lava Grossmith from Solomon Islands who has been involved in the industry for 30 years.
She was self-taught by her mother who was a tailor and said her designs were influenced by her roots. She loves to create outfits that can be worn on any occasion – casual, urban, evening and bridal outfits.
Ms Grossmith, originally from West Kola Ridge, also specializes in plus size clothing and aims to make fashion comfortable for everyone. She runs her own tailoring business, Lava's Original Fashion Wear.
Passion for fashion
The Pacific Fusion fashion show is the brainchild of stylist and social entrepreneur Nora Swann.
Having worked in the industry for seven years, she saw a real need for emerging designers to test their ideas in the market.
"My goal is to provide the essential skills designers need to help them reach their full potential, which will allow them to do their best," she said.
"This show speaks of our potential and our unique approach to haute couture."
[Stylist and social entrepreneur, Nora Swann, who is the founder of the Pacific Fusion Fashion Show. Photo: RNZ/Todd Niall]
"Since our first show in 2016, many designers have contacted us because they believe in our philosophy.
"They also see this opportunity as a great way to build their confidence and test their ideas beyond the traditional Pacific design category. "
The proud Pacific Islander said her mission is to build the confidence of emerging designers to enter the fashion industry and entrepreneurship in style.
Papua New Guinea
The AA's Tribal Fashion label was born out of Papua New Guinea textile designer Anna Amos' love for art and her country.
She was fascinated by the way art repeats itself both in nature and in man-made objects through color, lines, shapes and texture.
The 49-year-old uses tribal PNG designs, prints to create contemporary clothing.
His inspiration came from traditional objects such as the stone ax, Kundu drums, shields, spears, plants and patterns.
"We come from a country where we are a very colorful people with different kinds of traditional elements," she said.
"And through our make-up, in our reports, traditional costumes and even the landscape of our beautiful country.
"So I tried to look at all of these things and incorporate them into contemporary clothing."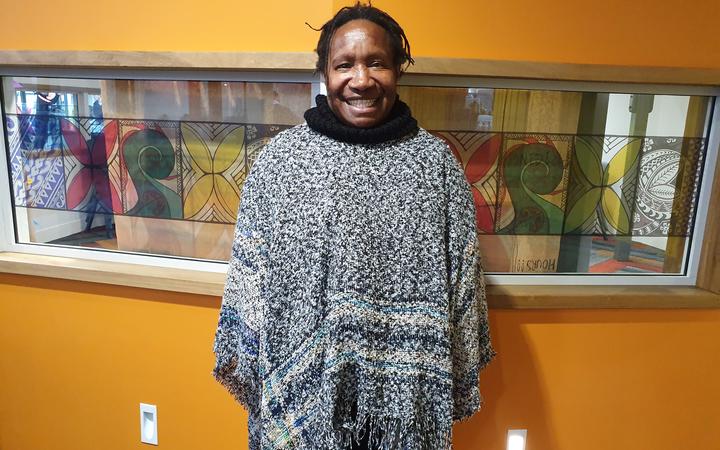 [Anna Amos of AAs Tribal Fashion in Papua New Guinea. Photo: Christine Rovoi]
Ms. Amos has been in the design profession for over 14 years and works with local communities.
"I help empower women, people with disabilities, youth, vulnerable people, transgender people and minority communities."
The Simbu native said she hopes to revive her country's tradition and love of colors on the podium.
Vanuatu
For Tonga Leiola Finau-Rakau, 31, it is a dream come true to be selected to represent Vanuatu at this year's show.
She moved to Port Vila with her husband and children four years ago and they now live there.
Vanuatu was a diverse country and its collection included clothing and crafts representing the Pacific nation's cultural and modern twist on fashion.
"The prints on my clothes are from Vanuatu's cultural tattoos and the plants, leaves are also from Vanuatu," she said. "So I combine it with my collection – some things like the coconut shells and my earrings and the flowers – it's all from Vanuatu."
Ms. Finau-Rakau started making crafts in 2012 and she launched her clothing brand – Native Wear – last year.
Her brand's style was a blend of Pacific culture and modern fashion – from her adopted country Vanuatu to her Tongan heritage.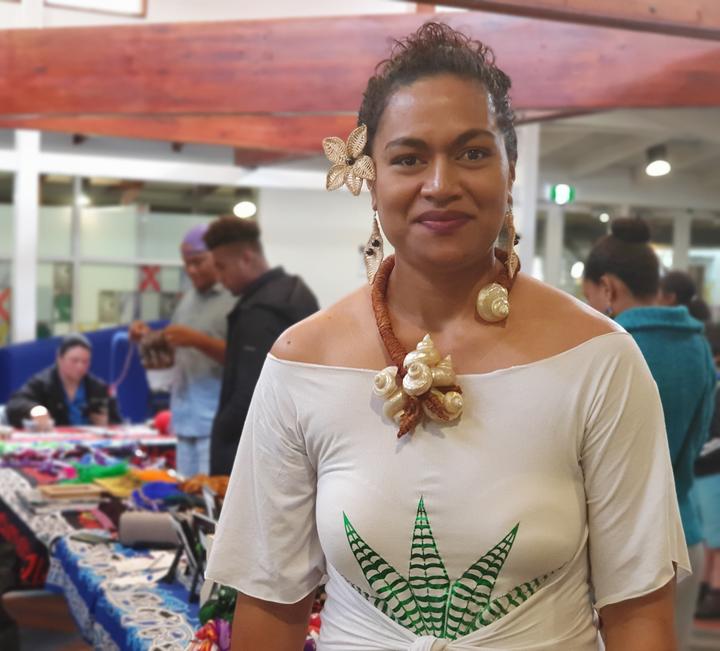 [Tongan Leiola Finau-Rakau is proud to represent Vanuatu at this year's Pacific Fusion Fashion Show in Auckland. Photo: Christine Rovoi]
But the mother of three said the trip had not been easy.
She met her husband while studying computer programming at the University of Fiji and in her senior year she dropped out to get married and start a family.
Mrs. Finau-Rakau then realized that she wanted to become a designer.
"I was studying only for the sake of my family, but that was not what I wanted to do. I am now a mom and a full time designer and it can be very difficult.
"But I had to manage my time well with my work and my family. I am also fortunate to have a supportive husband and family."
This is Ms Finau-Rakau's first appearance at an international fashion show and she said she feels proud to showcase the culture and people of Vanuatu.
The Solomon Islands
Elaine Maepio, 59, from Solomon Islands has never attended a fashion show before.
Without formal education for sewing in the Solomons, his mother taught him at the age of 12.
Ms Maepio is from the Marovo Lagoon and said her inspiration came from the beauty of the coral reefs and the surrounding small islands in the lagoon.
"The Solomon Islands are rich in culture and tradition and through their various designs, patterns and colors, this is the theme of my collection," she said.
"This is evident in the beautiful prints and patterns, mostly inspired by the local handmade sculptures in Marovo.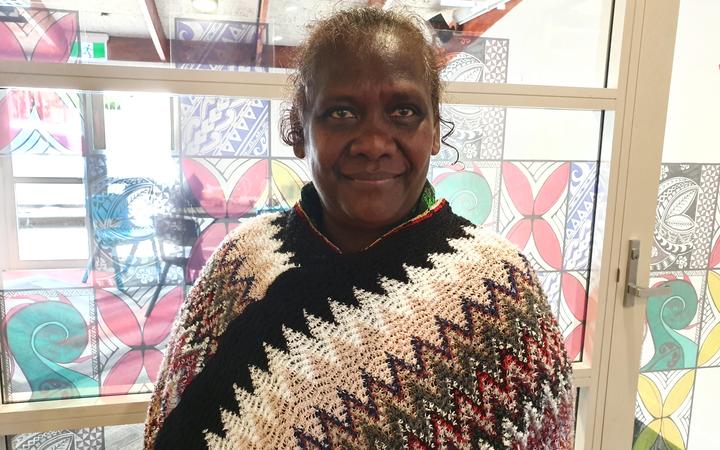 [Elaine Maepio of the Solomon Islands hopes to continue to inspire and encourage her people. Photo: Christine Rovoi]
"I also help teach the men and women in the area. "
She has facilitated fabric art workshops through her passion to inspire and encourage the Solomon Islands.
Ms Maepio, who runs a store in Honiara, said her designs were also inspired by missionaries who taught her mother.
She hoped one day to teach her grandchildren this "family tradition".
The Pacific Fusion Fashion Show will be held on Saturday October 5th at the Vodafone Events Center in Manukau, Auckland.
[Source: RNZ]