A Day in the Life of a Luxury Vintage Curator at What Goes Around Comes Around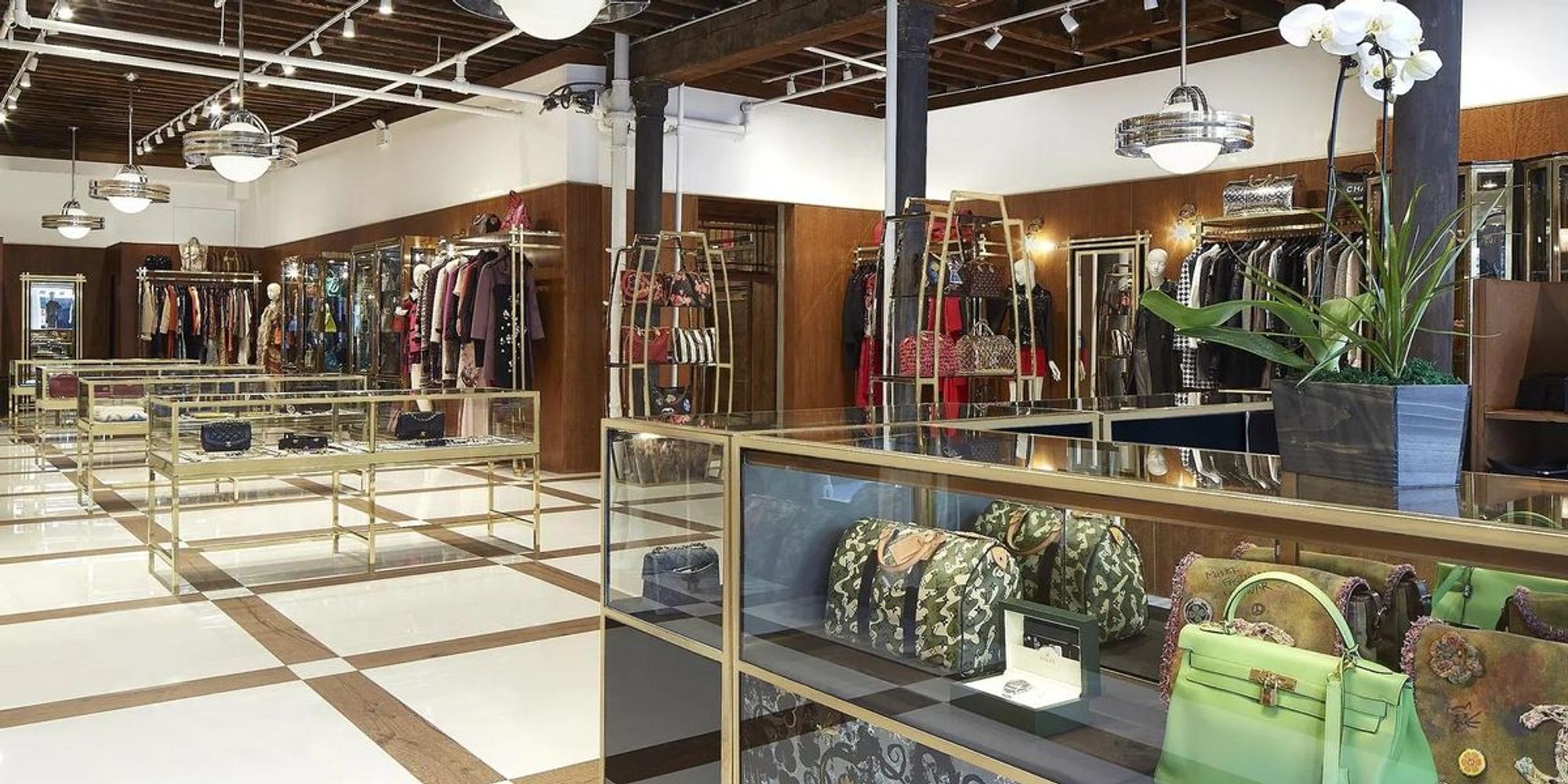 On a cloudy Wednesday, I walked into luxury vintage retailer What Goes Around Comes Around's Jersey City, warehouse-like offices to meet Julian Guevara, vice president of retail and customer services. His appearance is casual at first glance, but after further research, nothing was left to chance. Guevara is wearing Issey Miyake gray knit pants, a Spike Lee long-sleeve t-shirt, a vintage Rolex (from his year of birth), and Air Force 1s. Although I was initially intrigued by his ensemble, my eyes can't resist wandering over to the ostentatious clothes racks that line the vast open space.
Ready-to-wear is separated by section. First comes a rack of T-shirts, but these are no ordinary T-shirts. The entry point for a true vintage graphic t-shirt starts around $100. If it's emblematic of a concert or a rock band, that number automatically jumps to $300. Next is a rack full of jackets. Think: a vintage Alaia adorned with leather fringe, Chanel tweed blazers and a red Louis Vuitton letterman that would make any fashion girl swoon.
Once items are authenticated, quality checked, photographed and SKU'd at this location or the company's Japanese offices, they arrive at this floor, where Guevara and his team begin the allocation process. Not only do they discern which store to send each piece to, but they make sure each item is as special as it is pristine.
Let's move on to dresses. I'm momentarily distracted by a Jean Paul Gaultier knitted sheath with a trompe l'oeil design on the front – items from this brand and model are highly sought after right now. Guevara is on a mission, however, pulling Emilio Pucci dresses circa 2010 with quirky tags off the rack because they aren't "special enough." A Gucci dress has a few rips that passed the first round of quality control, but also didn't live up to her expectations. Of course, hidden in the back is a rack for a few items that Guevara escaped curation for his personal indulgence — job perks.
Once we're done flipping through the shelves, it's time for a meeting with the head of authentication (who remains anonymous in this story at the company's request) in Guevara's office, sparsely decorated to better showcase the framed Hermès scarf in the wall. She is currently organizing training for all employees to help them better recognize counterfeits – they really, really good. She tagged some helpful details through sources ranging from Reddit threads to PurseForum. It features an extremely enlarged image of Chanel's interlocking "CC" logo on an interior metal plate. His research revealed that fakes actually create a more perfect logo than the real thing. The originals all had a slight hollow in the same place.
Previously, you could only tell a fake Chanel apart by its hardware and serial number. Now they are literally microchipped, but somehow fakes are still spreading almost everywhere. "As an individual consumer, you can't risk it," Guevera says, of why buyers should always allow experts to confirm authenticity.
Next up is a meeting with marketing manager Barbara Beach – she came to What Goes Around Comes Around after working under costume designer Pat Fields early in her career. The two are conceptualizing an upcoming photoshoot, drawing inspiration from old pin-up postcards. (You only shoot vintage items, so why not lean into the vintage theme?) Immediately, Guevara starts racking her brains for stock items to include in the shoot, maybe a Chanel swimsuit black and white ?
Julian Guevara, vice president of retail and customer services, examining a vintage jacket at WGACA headquarters in Jersey City.
Photo: Courtesy of What Goes Around Comes Around
Guevara discusses options for a photo shoot with marketing manager Barbara Beach.
Photo: Courtesy of What Goes Around Comes Around
Then, you have to approve the layouts of the newsletters. Deciding between which group of classic black Chanel flaps to capture seems eerily similar to the cerulean belt dilemma in The devil wears Prada— Apparently, a handbag can actually look big in a picture. Center the button on the page or not? What about a rectangular button? With those questions answered, we head to another part of the building, noting stock parts that might work for the aforementioned shoot. Chances are there's only one of each of the rarest items, so they better act fast before it sells out.
We enter a storage room with shelves upon shelves of Louis Vuitton bags. This is the photo studio where the team takes product shots for the e-commerce site. The actual setup of the photograph looks complex, but I'm distracted by the sea of ​​LV monograms surrounding me.
Once Guevara has flagged enough parts for the shoot, he must transition from creative manager to more logistical manager. He jumps on a quick call for an upcoming event with Threads – just fun stuff like liability contracts. A quick meeting covered by the NDA (which I'm not allowed to attend), and it's time to leave for the retail store. Most afternoons, the multi-hyphenated director hops in his car and drives through the tunnel into the city at least once to the What Goes Around Comes Around SoHo location. Sometimes he brings inventory or just comes over to connect with stylists and managers. Along the way, we discuss Guevara's career. Guevara never went to college, gleaning his experience instead from early styling jobs, then a long stint at Intermix before coming to WGACA in 2016.
As we approach West Broadway, we walk through the doors of a space that looks more like a salon than a store, though it's lined with color-coordinated shelves of Vivienne Westwood corsets and Miu Miu minis and glass cases for Rolex watches and Louis Vuitton handbags. . While I distract myself with price tags that rattle my bank account (Ambria Mische, VP of What Goes Around Comes Around, compared investing in a Hermès Birkin bag to buying a car), Guevara chats with Jordan Wilson, VIP Client Manager.
Today, Wilson prepares for a celebrity stylist to stop by for a sweater. This means that said stylist will select options that a client may possibly wear to an event. Wilson says these vary widely in nature. Sometimes his help is needed to basically organize a list of potential items. Other times, the celebrity stylist knows exactly what he wants, and Wilson is basically there to take stock of what he's shooting. Now that it's about as common to see stars like Bella Hadid and Dua Lipa in a vintage piece as they are in a runway look, these kinds of operations are common. Vintage resources like WGACA also offer stylists and buyers a way to capitalize on nostalgic trends without waiting for runway pieces to hit the floor. And vintage dealers can react quickly to these social media-induced outbursts. For example, "We always had Mugler," Guevara says. "Now we just doubled our purchase." The brand's recent clients include Rihanna and Bretman Rock, although many others prefer not to publicize their source.
In fact, many high-profile customers rarely set foot in the store. "Some of them we've never met," Wilson said. Instead, stylists, whether their personal stylists or WGACA stylists, do the work for them. And a lot of that is with big budget clients, celebrities or not. When I asked about the craziest stories, they said they opened the store for Drake in the middle of the night. The item he chose was, of course, needed that day in Toronto. So Guevara hopped on a plane to deliver that item to Canada that morning.
It is also not uncommon for fashion brands and designers to shop in-store. A brand like Gucci could send representatives to fill out its own records. Others might be looking for inspiration and buying accordingly. And when Jean Paul Gaultier walks in, "everyone freaks out obviously, but we played it cool," Wilson assures me. The clientele is "literally anyone you can think of," he continues. Not just fashion people, but filmmakers, musicians, artists. Apparently, Florence Welch is always on the hunt for floral dresses from the 20s and 30s.
Inside the main lounge of the What Goes Around Comes Around store at 351 West Broadway in New York City.
Photo: Courtesy of What Goes Around Comes Around
While direct assignments may vary, all guests are hopefully there to celebrate their love of vintage fashion. It's not uncommon for an in-house stylist to hit it off with a particularly fashion-conscious client, pop a bottle of champagne and offer them the option of going to the vault, an area normally reserved for VIP clients. . Naturally, I was intrigued, so I decided to check it out.
We descend a back stairwell into a basement-like room lined with more clothes and accessories. Here, Wilson is setting up a call to buy for a West Coast customer (a rare, dying favor). He puts together a rack of clothes he thinks she might like, then later wraps it up and sends it to her. She'll keep and buy the items she wants, then send back the rejects, which will go back to the ground. (You have to spend a lot of money for this kind of transaction.)
Wilson himself is dressed in a floral-print Gucci blouse from a 2013 runway collection, vintage military trousers and a zebra-print Manolo Blahnik brogue. In fact, all the vendors on the floor are sporting envious looks. All are, of course, vintage because that's what every fashion-obsessed employee cares about.
"Growing up, I always loved vintage clothing and shopped at vintage stores and thrift stores before I started working for luxury clothing retailers," Guevara explains. After years of working and learning in the primary market, he noticed "that collection designers offered a less special feeling each season, identical to previous seasons or other brands, and poorly made for the prices charged by marks". He continues, "Certain brands are oversaturated in countless stores across the country and online customers have no urgency to buy."
Now Guevara and Wilson agree that one of the most rewarding aspects of working at What Goes Around Comes Around is converting a current luxury shopper to the vintage world where they'll find that designer fashion infused with an extra dose of durability, affordability (sometimes), and individuality. These vintage-obsessed employees get what they put into their jobs; just look at their sets. After all, what happens really does happen.